2016.03.28 – 2016.04.03
K: To be continued…

Russia Prepares for a Big War: The Significance of a Tank Army
From: Sic Semper Tyrannis, 03 April 2016, By Patrick Armstrong

(Click to enlarge) Patrick Armstrong
– "People who already understand how armies are put together should skip Part 1.
Part 1. How armies are put together
(…)
Part 3. The Russian Army
The Soviet Army was organised for a huge war: it had divisions, organised into armies (corps in Western terminology) which were organised into fronts (armies in Western terminology) and further grouped into TVDs or Theatres of Military Activity (army groups in Western terminology) all backed up by a conscription and reserve system, immense stocks of weapons and gigantic pre-positioned ammunition dumps. This time, the Soviets did not intend to fight the decisive battle an hour's drive from Moscow. When the USSR collapsed, so did that structure. The most ready elements were based in the Warsaw Treaty countries; Russia took responsibility for them and they were hurriedly moved back, shedding conscripts as they went. The formations which would have been filled up and then supported the ready elements were in Ukraine and Belarus and lost to Russia. (…)"
K: Extra cartoon

(Click to enlarge) It needs not to be afraid of Russian Bear! It's today small and weak…

Last chance: Vladimir Putin explained why Russian business does not leave Ukraine
From: IA "ANTIFASCIST", Monday, 28 March 2016

(Click to enlarge)
– " Amid the ongoing war in Donbass, more and more questions arise – why Russia continues to support economic ties with Kiev, why many Russian Industrialists and entrepreneurs continue to interact with the fascist Ukraine. Is there a direct betrayal of Donbass, which every night falling bombs and mines?
24 March 2016, Congress passed the Russian Union of Industrialists and entrepreneurs, attended by the President of Russia Vladimir Putin. The President asked many disturbing big business question – isn't it time to remove all the assets from the Ukraine and stop all financial interaction. Ukrainian Nazis are attacking the Russian Embassy, burning and trampling Russian flags, blow up and burn "daughter" of Russian banks.
What to do Russian business on this cursed for seven generations the earth?(…)"

American in Russia: what stands behind Kerry's visit?
From: Sulakshina Center, 31 March 2016, Author Ludmila I. Kravchenko, expert, Sulakshin Center

(Click to enlarge)
– "Regular visit of Kerry to Moscow was covered widely in the media flashed stories about the briefcase that Kerry pulled off the plane on their own, they discussed mutual acuteness Kerry and Lavrov brought the U.S. Secretary of state guitar, but not mentioned the most important — what exactly agreements come parties, except vague terms known in advance? Why J. Kerry is the fourth time I came to Moscow?Why the Russian President behaves as if he runs banana Republic, submitting to the will of its Northern neighbor — the United States, not a sovereign state with the world's biggest potential for development.
WHAT WAS DISCUSSED BEHIND CLOSED DOORS
The main topics of discussion were the fight against terrorism, Syria and Ukraine. Unlike the Russian President, who considered that the task of Russia in the fight against terrorism and made the terrorist threat neutralized, the American side believes that the destruction of the Islamic state is the question. (…)"

The Russian industry continues its decline
From: rufabula (rusplot), April 1, 2016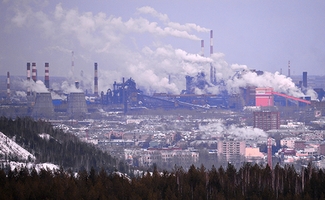 (Click to enlarge)
– "The business activity index (PMI) in the manufacturing industries of Russia by the end of March 2016 fell to 48.3 points against 49.3 points in the previous month, reports RBC, citing data from Markit.
In January of this year and December of last PMI also was held below 50 points, this means that the decline in Russian industry has continued for four months in a row.
""Russian production is currently in the midst of crisis. The headline index has dipped below the critical level, pointing to a seven-month low. In General, the first quarter of 2016 was disappointing for the Russian manufacturers" — said Markit economist Samuel Agass.
According to experts, in March 2016 the rate of decline of employment in the Russian manufacturing sector accelerated to a maximum of 14 months. Simultaneously, after two months of growth had resumed the fall in output and overall new orders, export orders of the Russian enterprises according to Markit, down for 31 months in a row. (…)"