Russia's national security strategy for 2016 in 9 key points
RT, Published time: 31 Dec, 2015 23:34, Edited time: 31 Dec, 2015 23:41

(Click to enlarge) © Michael Klimentyev / Sputnik
– " 3. NATO expansion goes overboard
The North Atlantic alliance advance towards Russia's borders is a threat to national security, according to the document. Processes of militarization and arms build-ups are unfolding in regions neighboring Russia, it says, adding that "the principles of equal and indivisible security" are not being respected in the Euro-Atlantic, Eurasian and Asia-Pacific regions.
Nonetheless, Russia is still interested in a fair dialogue and good relations with NATO, the US and the EU, the strategy says. Under the partnership, it's important to enhance mechanisms "provided by international treaties on arms control, confidence-building measures, issues related to non-proliferation of weapons of mass destruction, the expansion of cooperation in the fight against terrorism, the settlement of regional conflicts," it says."
Part Three
Kassander questions about NATO expansion: How long Russia will be plaing a weak partner (if she's not!) to NATO? How long the US and specially NATO (the US is too strong for RF?) will be not giving a damn to what Russia says or announces to do (Russia never induces fear in enemies – she just strikes in need then asks – well, she did that way when she was Soviet Union, at least). How long the Western military hawks and political whore elites will fiddle on Russian nose? As "NATO will firmly anchor Montenegro in Euro-Atlantic institutions" what means cementing NATO bonds against Russia, why Russia still waits in humble posture for other, it is new, US, EU and NATO elites?
They will never change as they are set to destroy Russia and they will not turn back from the policy – decidedly not to the shy Kremlin's silly bows and dodges. NATO crushed CCCP once, so gaining such experience it will never ever stop their efforts to do a final blow or to jump off from the US bandwagon in pursuit of the award of World's Hegemony.
The faster the Kremlin forget the silly mantra "it has a chance to hammer a wedge between US and Europe", the better for Russia – as it smells of betrayal for now. Even Mr. Paul Craig Roberts in his column Why WWIII Is On The Horizon stepped in the Kremlin stupidity when he suggested to implement "domino effect" for NATO members where one or two of the biggest NATO states could exit from the alliance, giving that way seminal example for others and in the result NATO's structure would collapse. Delusional daydreams.
Why WWIII Is On The Horizon:
At this point in time, nuclear war can only be avoided in two ways. One way is for Russia and China to surrender and accept Washington's hegemony. The other way is for an independent leader in Germany, the UK, or France to rise to office and withdraw from NATO. That would begin a stampede to leave NATO, which is Washington's prime tool for causing conflict with Russia and, thereby, is the most dangerous force on earth to every European country and to the entire world. If NATO continues to exist, NATO together with the neoconservative ideology of American hegemony will make nuclear war inevitable.
Counting on Western stupidity or corruptness is futile. Perhaps Kremlin only pretends Russia still have illusions or Kremlin really lives in fumes of oligarchic hopes to enter World Corporation Gild on the Grand Betrayal. Time for the New Russia Wind, or the New Russian Spring, or the New Russian Voyentorg to swiftly and thoroughly air the rotten lair of Putin's power. (continued at the end)
NATO foreign ministers agree to offer Montenegro membership
From: RT, Published time: 2 Dec, 2015 07:34, Edited time: 2 Dec, 2015 10:15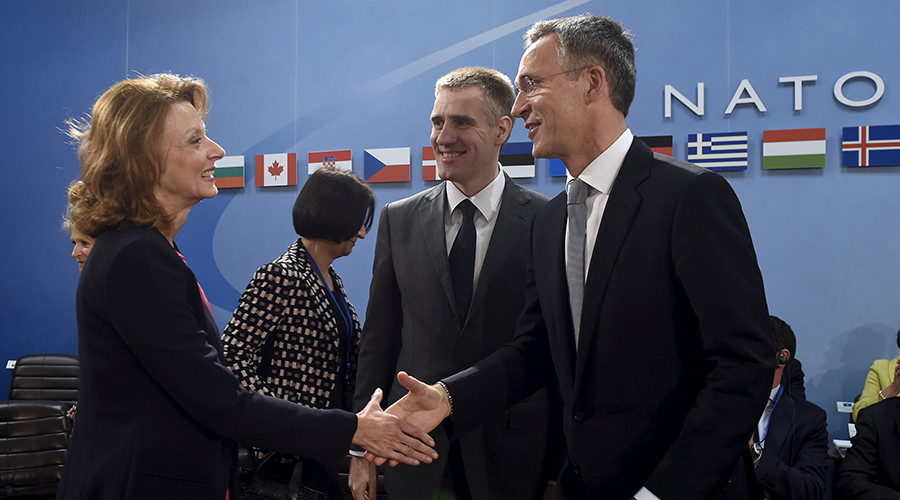 (Click to enlarge) (L to R) Minister of Defense of Montenegro Milica Pejanovic and Foreign Minister of Montenegro Igor Luksic and NATO Secretary General Jens Stoltenberg take part in a Foreign Affairs meeting at the NATO headquarters in Brussels on December 2, 2015 © John Thys / Reuters
– "NATO foreign ministers have agreed to invite Montenegro to join the military alliance. The move is likely to lead to further deterioration in NATO's relations with Russia, which sees the alliance's expansion eastward as a threat to its national security.
"We congratulate Montenegro," NATO Secretary-General Jens Stoltenberg told the meeting at the alliance headquarters in Brussels.
"This is the beginning of a very beautiful alliance," he added.
(…)
The Kremlin said a response to Montenegro joining NATO would follow, but details are still under consideration.
"The president [of Russia] has not made public his opinion on the matter yet. Let's wait for official statements from the Defense Ministry, the Foreign Ministry and the president rather than expert options," presidential spokesman Dmitry Peskov said.
(…)
The statement said that "membership in NATO would firmly anchor Montenegro in Euro-Atlantic institutions, promote greater regional stability in the Balkans, and demonstrate the credibility of NATO's 'Open Door' policy.""
Russia's new maritime doctrine 'to counter NATO's expansion', focuses on Crimea & Arctic
From: RT, Published time: 26 Jul, 2015 20:54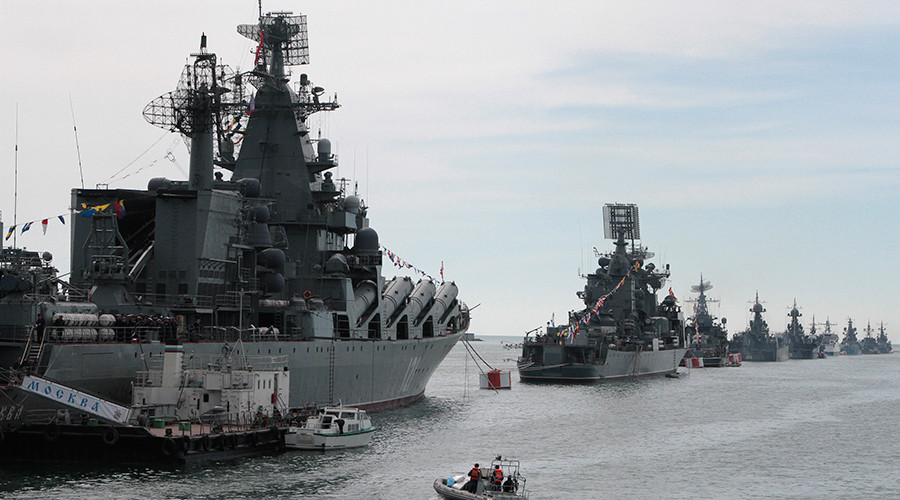 (Click to enlarge) © Stringer / Reuters
– "(…) Maritime Doctrine covers four functional and six regional areas. The four functional areas include naval activity, maritime transport, marine science and the development of mineral resources. The six regional areas are the Atlantic, the Arctic, the Pacific, the Caspian Sea, the Indian Ocean and Antarctica.
The amendments were approved by Putin on Sunday in Baltyisk, where he took part in festive events in honor of Russia's Navy Day. He called the amendments a "milestone event for the future of the Navy."
He said that for the first time the doctrine included purely social provisions – naval medicine, health building measures for sailors, specialists of the naval sector.
"It is particularly important. People must be sure that in strategic documents on the development of the Navy, on the development of Navy-related sectors, the state will never forget about the social aspects of these documents and will implement what people expect from their service in this extremely difficult and important sphere," he said."
Because Russian economy is shambles especially education and health – that's why it is "extremely difficult". If improved it'd be done at the expense of Russia civil domain. Kremlin aka Putin and Medvedev (the "strong man" who sold out Libya…) did nothing in those areas – as the health was bad it is now, or in a tragic state. Presidential and "United Russia" party election promises were, are and will be unfulfilled. Not uber liberals are needed but such man like Mr. Sergei Glazyev who is able to revive Russian economy. But he is not Putin's adviser, not anymore, what's more he is being pushed away by all powers sucking Russian economical and financial arteries every time he tries to close to them and to explain to the dickhead MPs and other lower politicians (aka thieves and thugs) what to do.